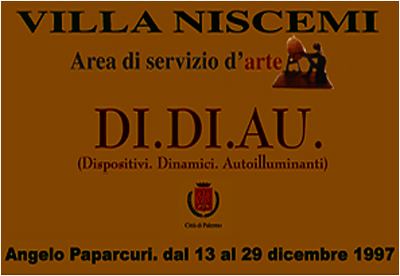 SOLO EXHIBITION 1997 - Villa Niscemi
From December 13-29, 1997,
ilgeniodellalampada
holds a personal exhibition in "Villa Niscemi", just when, in the 90s, Maestro Enzo Patti takes over the "Artistic service area" exhibition space, created following the renovation of the old stables of the villa. The purpose of the gallery was to create an artistic movement that promoted artists from Palermo and elsewhere, bypassing all the unnecessary red tape associated with the organization of events like these. The Maestro, while he is in charge, will succeed in his intent. The Genius, in his first personal exhibition, presented his production of
Luminous Dynamic Sculptures
or Di.Di.AU.
(dynamic self-illuminating devices)
. The eighteenth century villa, former residence of the Niscemi princes, is today an event venue of the City of Palermo.